flip the script

Branding




flip the script generative logo (click image to view select gallery)



Project Summary


Team: Solo project

Project Duration: 5 weeks

Tools: Illustrator, InDesign, Photoshop, Premiere Pro

Deliverables: Brand name, brand guidelines, flexible logo system, social media campaigns, poster series, website


Mission

flip the script is an online campaign in honor of International Adoption Awareness Month (IAAM) in November with a focus on Chinese-American adoptees, drawing inspiration from previous IAAM projects by the nonprofit, China's Children International (CCI). This campaign aims to shift the focus away from adopters and instead allow a space for adoptees to share their unique narrative, thus "flipping the script". Although advocating for adoption is important, it must also be acknowledged that adoption IS a form of trauma. Uniting with other adoptees and giving voice to your story is a powerful way to process, grieve, and celebrate losses and successes throughout the journey of being adopted.


Kit of Parts

This flexible identity system consists of the following parameters:


At least 3 words used at all times: "flip", "the", "script"
3 letters connected at all times: one letter from each word must connect to the word(s) below/above it using an ascender, descender, or vertical line
Stretching: All verticals in each letter can stretch to any length greater than the original letterform, but no other part of each letterform should stretch
Reflection/Flipping: For the first campaign, "flip" will not be rotated to allow for greater readability. Entire words can rotate so that they are upside-down, but not just individual letters (To push idea of flipping entire "script")
Alignment: When words go to the edge of a poster/screen/etc. the word should be flush with the edge at caps height on both top and bottom edges.




Typography

The typeface Avenir Book was chosen for its geometric letterforms. Vertical ligatures are easily created with this sans-serif typeface, due to the thicker vertical strokes. These elongated ligatures speak to themes of connection and the long psychological and literal journey of adoption. Lowercase type is utilized in this identity system due to the approachability and childlike personality of lowercase letterforms. This personality aids with the telling of a unique story about a sensitive topic that often extends back into childhood.







Color

Brand colors include red, black, and white. For gradients, the official province, state, or national colors should be used for the top portion of the typography to symbolize the location of origin and province, state, or national colors for lower portion to represent where the adoptee lives currently.





Application

For the initial campaign, posters are designed with flipped photography of adoptees as young children, and then as adults able to share their narrative. In future campaigns, once the brand identity is better recognized, the text flips in more unexpected ways. Narratives are paired with images of adoptees, country flags, and adoption paperwork. In the social media campaign, excerpts from adoption paperwork are juxtaposed with images of people to convey how dehumanizing the process of adoption can be. With all of the governments, agencies, immigration procedures, legalities, etc., the actual human being transported from one orphanage or foster home, to their adoptive home can all too often get lost in the mix. The entire campaign aims to empower, give autonomy, and offer voice back to the adoptee.

Initial Campaign


poster series for initial campaign, juxtaposing adoptees as children vs. adults
Future Possibilities


poster series for second campaign focusing on typography, individual narratives, and cultural imagery

poster series for second campaign typography and individual narratives



Social Media


Instagram posts juxtaposing legal language with images of adoptees
flip the script landing page

Future Possibilities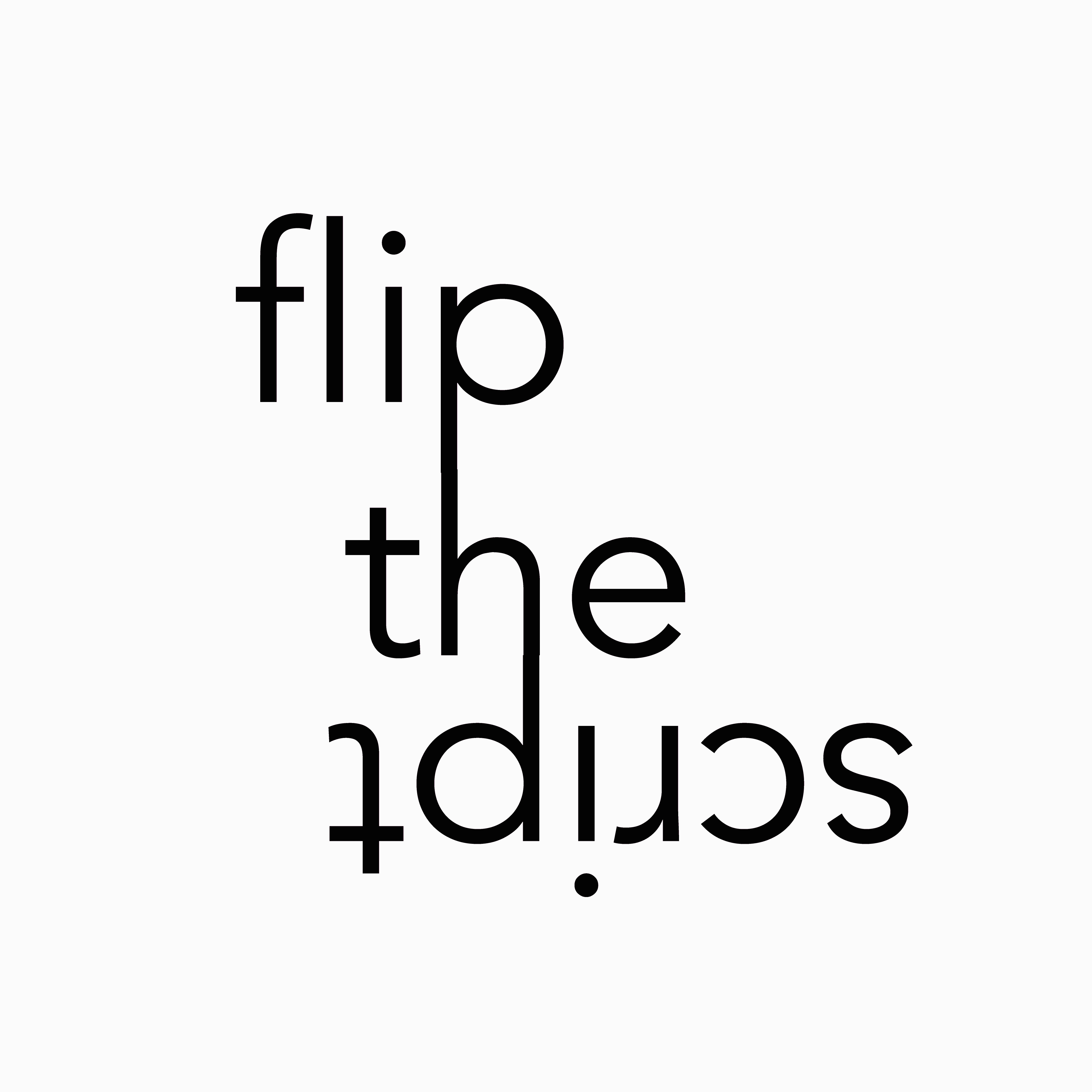 future logo possibilities
future logo possibilities